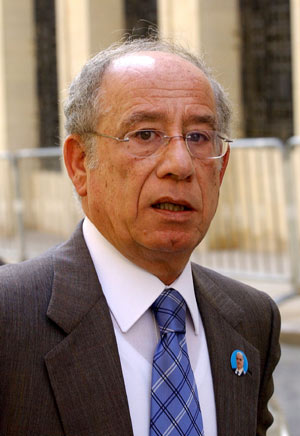 A year ago, on June 13th 2007, MP Walid Eido was assassinated in Beirut.
Tajaddod Youth members express their solidarity with the family of the Martyr and the Future Movement.
Not only had Beirut lost Rafic Hariri, Basil Fuleyhan, Samir Kassir, Gebran Tuéni and Walid Eido, it has also faced the siege of armed militias, who tried to control its soul and impose a culture of oppression, violence and submission upon the free Beirutis.
Beirut resisted, in spite of the assassinations, in spite of the violation of its houses, in spite of the occupation of its streets.
Tajaddod Youth members know that Beirut will never fail its martyrs and through the memory of Walid Eido and all the March-14 martyrs, Beirut will always be free.
منذ سنة، في 13 حزيران 2007، استشهد النائب وليد عيدو.
يؤكد قطاع الشباب في حركة التجدد الديموقراطي على أصدق مشاعر التضامن مع عائلة النائب الشهيد ومع تيار المستقبل.
لم تفقد بيروت فقط الشهداء رفيق الحريري، باسل فليحان، سمير قصير، جبران تويني ووليد عيدو، بل واجهت أيضاً حصار الميليشيات التي حاولت السيطرة على روحها وفرض ثقافة القمع والعنف والخنوع على البيروتيين الأحرار.
بيروت قاومت، رغم الاغتيالات واغتصاب حرمة منازلها واحتلال شوارعها.
يعرف شباب التجدد أن بيروت لن تخون ذاكرة شهدائها وأن روح وليد عيدو وشهداء 14 آذار ستجعلها دائماً مدينة الحرية.